The ALDER Vision
Every decision we make on the landscape has an impact on our environment. Whether designing a backyard garden or restoring a wetland, we harness the solutions provided by nature to create eye-catching landscapes that support biodiversity and are resilient to climate change.
Why the name ALDER?
Alder trees are some of the most resilient species in the Pacific Northwest. After a disturbance, they're the first to return to the landscape to repair the soil and re-create the conditions that other species require to grow. They are the natural healers and workhorses of our ecosystems, making these trees the perfect mascot for our company.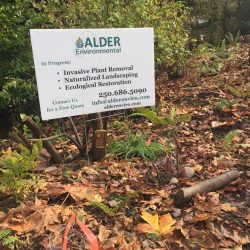 Our areas of expertise include climate
change adaptation, ecological restoration,
invasive species management, and restorative landscaping
Principal of the company is Lindsey Haist, a Vancouver Island born restoration ecologist who received training in Environmental Management at the University of Waterloo, Ontario and specialized in Ecological Restoration and Rehabilitation.
Her experience working with local governments, non-profit organizations and private property owners gives her a well rounded approach to solving environmental problems. Lindsey is also a Master Gardener with expertise in working with Pacific Northwest native plants.